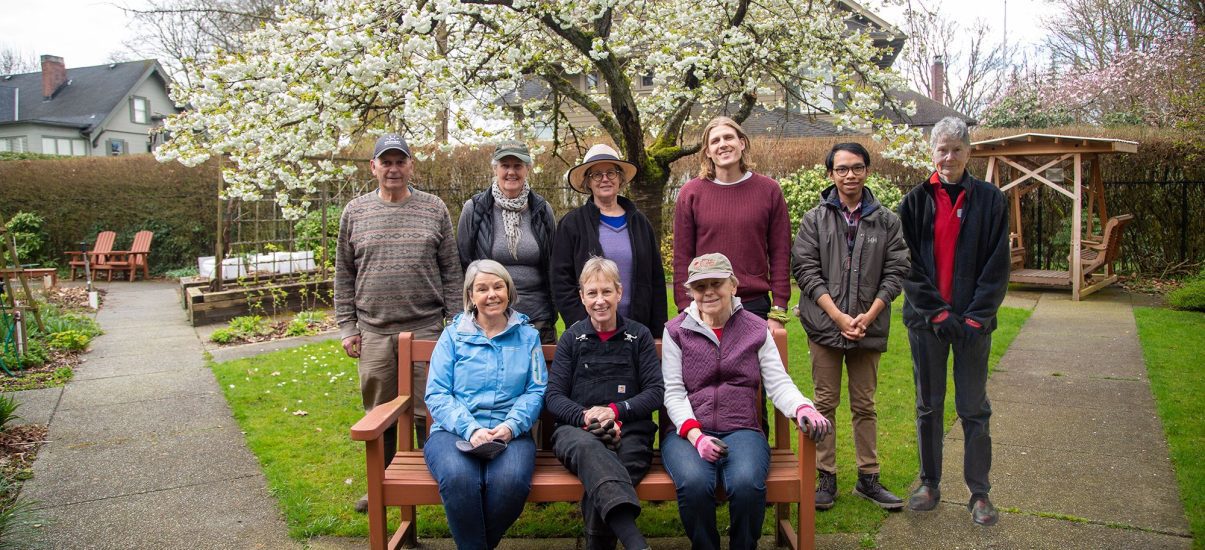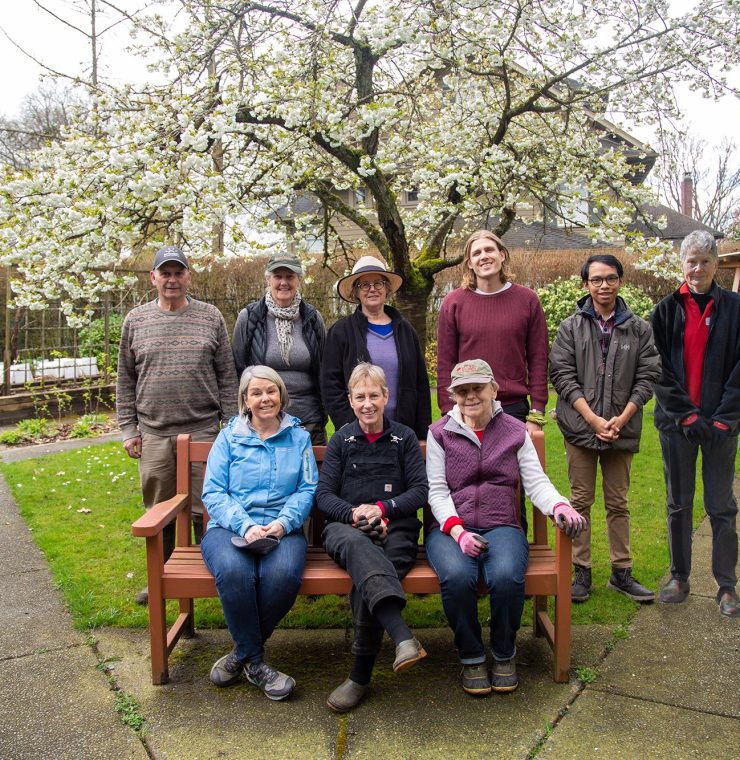 Celebrating National Volunteer Week: Garden Volunteers
Happy National Volunteer Week! We're celebrating our wonderful volunteers this week (and always!)
We have many different volunteer groups that help keep Canuck Place running, and one group we'd like to highlight in particular is the garden crew. These amazing people come to Glen Brae every Saturday (from March to November), rain or shine. They didn't even stop coming throughout the pandemic in order to keep our grounds in top shape. For over a year, this meant they couldn't come inside the hospice during their six-hour shifts, but instead, brought their own food and bundled up in all weather and ate on the porch with heat lamps, carefully distanced to stay safe.
Our grounds and garden are a very sacred and special space for our families and staff. Did you know that our 12 garden volunteers as a group contributed 2,999 hours since the pandemic started?
We sat down with longtime garden volunteer Val Alber to learn more about  her experience as a garden volunteer.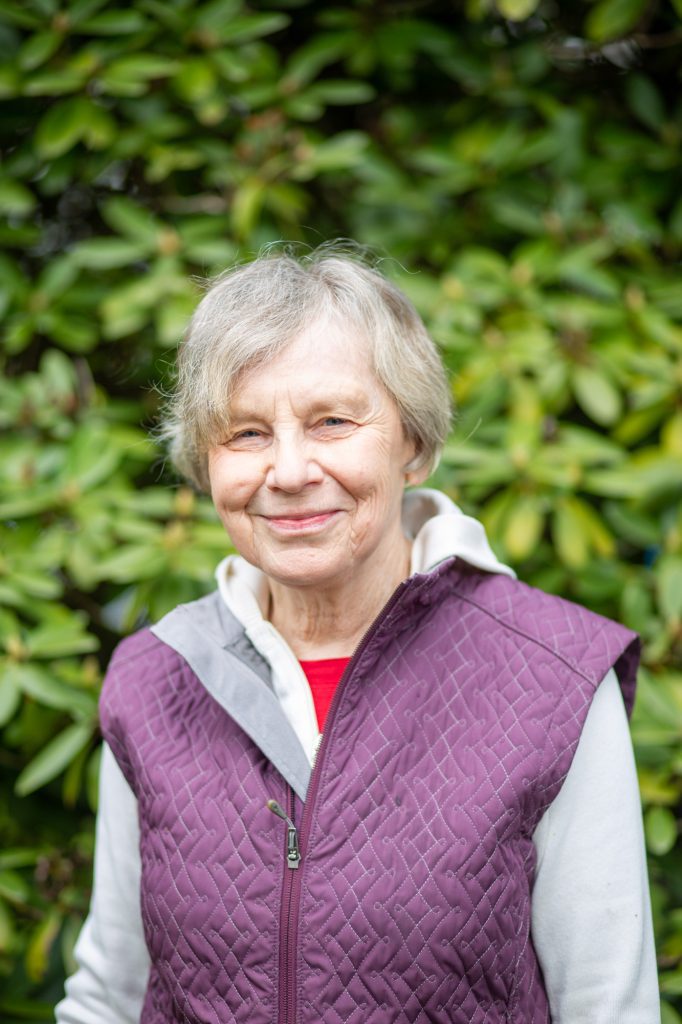 How long have you been volunteering with Canuck Place? Tell us a bit about yourself.
I have volunteered at Canuck Place for 10 years. I have always volunteered in the garden and I have also volunteered at some special events. When I am not gardening, I volunteer in the Bookmark, a small gift shop that raises funds for the Vancouver Public Library. I also enjoy cycling, walking, reading, or hanging out with family and friends.
What brought you to Canuck Place?
I was aware of Canuck Place for many years prior to when I started volunteering. In the 1990's when Canuck Place was transformed into a Children's Hospice, there were many stories in the media about the huge project and the progress being made. I frequently went for walks in the neighbourhood and told myself, when I retired, I would like to volunteer in the garden.
Why do you choose to work specifically in the Canuck Place garden?
I gardened for many years in my own home, as well as volunteered with a neighbourhood garden group. I have always liked to be outside playing in the dirt.
Can you talk about what a typical garden volunteer shift looks like? Tell us about your volunteer days in the garden.
We usually arrive shortly before 10 a.m. on Saturdays. Staff member Alyssa from Grounds and Facilities, and our two volunteer Master Gardeners Uta and Kathleen, give us an overview on the priorities for the day and the projects we should concentrate on. They spend a lot of time on planning, researching, designing, shopping, and other gardening related activities. It takes a lot of behind the scenes work for the garden to look like it does. Duties in the garden can include mowing lawns, raking leaves, spreading wood chips, harvesting vegetables, planting seeds, planting up containers and hanging baskets, working in the compost, and the list goes on and on. There is never a shortage of activities that are going on in the garden. After we have an idea of what needs to be done that day, we go on our way to complete the tasks, either on or own, or depending on what needs to be done, part of a group. Gardeners are outside rain or shine, so we all have our rain gear close at hand. We break for the wonderful lunches and cookies, provided by the kitchen staff and volunteers. We then resume our duties and finish around 3 p.m.
What is your favourite thing about volunteering with Canuck Place?
My favourite thing about volunteering in the garden is being part of a group who work to create an outdoor space that is safe, welcoming, comforting, cheerful, and fun for families, staff and volunteers. Seeing people out in the garden and enjoying it is very satisfying, as well as receiving positive feedback. There is a lot of camaraderie among the garden volunteers. We have lots of laughs and we also have some differing of opinions too. I look forward to Saturdays in the garden.
I imagine you have lots of great memories volunteering, but is there one in particular that stands out? Alternatively, can you speak to a meaningful experience you've had as a volunteer?
A few years ago two gardeners died within a short time of each other. One died suddenly, and the other died after a long illness. Staff from the Canuck Place Volunteer Office and a Canuck Place Social Worker led two very poignant memorial services to honour and celebrate their lives. I saw the garden differently during those services. I was now experiencing losing someone who had been a part of Canuck Place. I was really struck by the power of what the garden can do to help one get through their grief. The gardeners who passed on, live on with us, through all the living things that continue to thrive in the garden.
What has volunteering at Canuck Place taught you?
I have learned about the power of commitment and respect. Many volunteers make a considerable effort to fulfill their role as a Canuck Place volunteer. I have also learned that a group of volunteers who are all very different, are committed to ensuring that families going through an extremely stressful time, experience the best Canuck Place has to offer.
Why is giving your time to Canuck Place important to you?
I don't really think about my time. I think that is because I really enjoy the time spent with the other garden volunteers and the knowledge that the garden is really appreciated by all who use it.
What is one piece of advice you would give to those interested in volunteering with Canuck Place?
On your next shift at Canuck Place, take a time out and walk around the garden. Sit quietly, listen to the birds, smell the rain and different scents, and really notice your surroundings. This simple outing will help relax you and may get you into the habit of enjoying what the garden has to offer.
What is special about the Canuck Place garden?
Many years ago, after walking by Canuck Place a few times, I noticed something different about the property. All the other houses in the area had huge hedges around them. The streets felt very cold and unwelcoming. When I looked at Canuck Place, I could see the majestic house and all the greenery around it. It was inviting me to be curious. When you walk around the garden at Canuck Place, there is a spot for everyone. You can sit quietly on your own, you can listen to the waterfall and birds, you can see the vegetables, flowers, trees and shrubs in bloom or you can take a moment to watch the children play. There is something for everyone in the garden and that is why it is special.
Valerie Alber has over 1,600 lifetime hours and has been a garden volunteer for over 10 years. She contributed over 200 hours in 2021 alone. Volunteers like Val and the other garden volunteers, are the backbone of organizations like Canuck Place, and with volunteer help, Canuck Place can give short lives the gift of great days. If you're interested in learning more about becoming a volunteer, please visit https://www.canuckplace.org/volunteers/