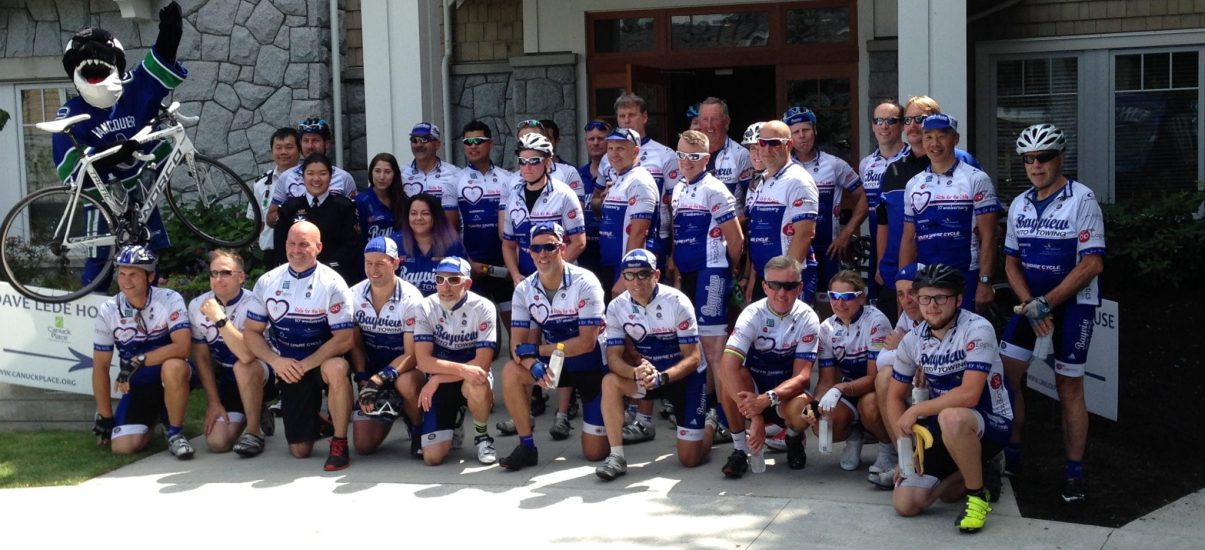 Jeff Bandura- Former Canuck has a Big Heart when he Rides for the Kids
Canucks Alumni, Jeff Bandura, is a passionate cyclist but even more passionate about supporting children and families at Canuck Place. Thirteen years ago, Bandura decided to merge his passions together, starting the annual Ride for the Kids, a 150km road bike ride. 
The fundraising initiative is in support of the Canucks for Kids Fund, designated to care at Canuck Place Children's Hospice. To date, Jeff and his incredible team of riders and supporters has raised over $800,000 to ensure pediatric palliative care is made possible for the over 818 children with life-threatening illnesses and their families on the Canuck Place program from across BC.
 Like many events this year during the pandemic, the 2020 Ride for the Kids is going to look a little different. The Ride for the Kids would usually feature a peloton of over 25 riders wearing bright blue and white and supported by other riders throughout the day. Since its inception, the New Westminster Police Department have supported Ride for the Kids, as well, the Abbotsford police force and RCMP have also always played an important role in guiding the large group of riders. A special stop is always made at Canuck Place-Dave Lede House in Abbotsford with Canucks Mascot Fin and a tribute to the children and families in hospice. Due to COVID-19, this year will feature a small group of riders completing a shorter course in small groups of 2 and 4, while physically distancing.
"Jeff Bandura has taken an incredible passion for road cycling and turned it into a gift for care at Canuck Place," says Margaret McNeil, CEO of Canuck Place. "The funds raised by Jeff, his fellow cyclists, sponsors and supporters really make a difference for Canuck Place and the children in our care. Jeff continues to demonstrate that resilience in challenging times brings hope to others."
 We are very grateful for the continued support of Jeff Bandura and the Ride for the Kids. His passion and enthusiasm to support the care at Canuck Place is infectious, as demonstrated by the annual success of the ride. 
We want to say a huge thank you to Jeff, Team Bayview Towing and the Canucks Alumni for their commitment to raising funds for Canuck Place. Words cannot express our gratitude how important these funds are, especially right not during this challenging time.
 From the big and little hearts at Canuck Place, thank you Jeff. We love your heart and we love how you give!