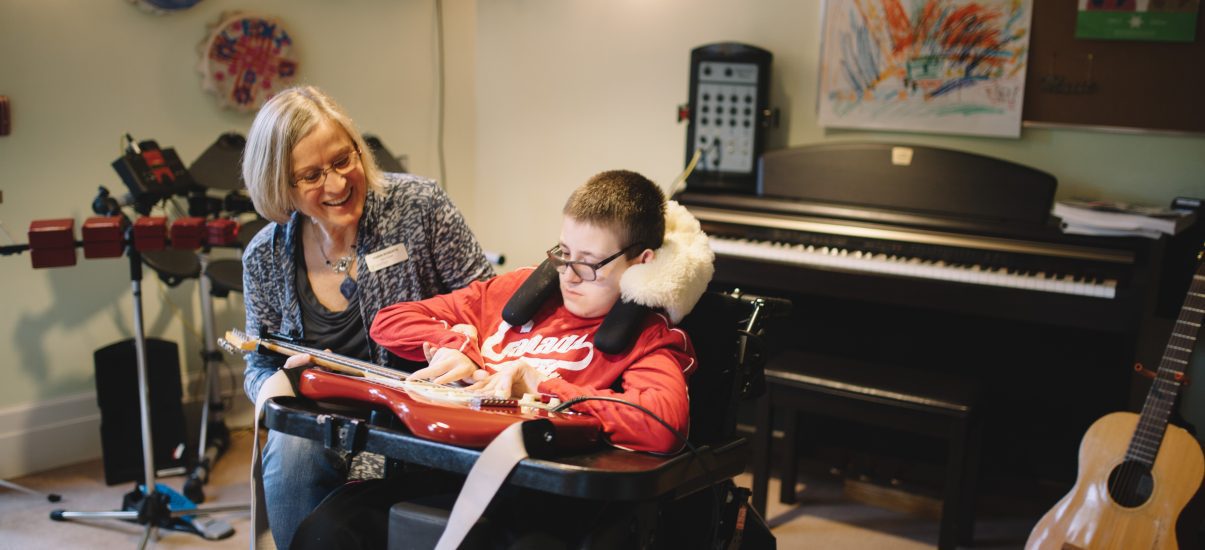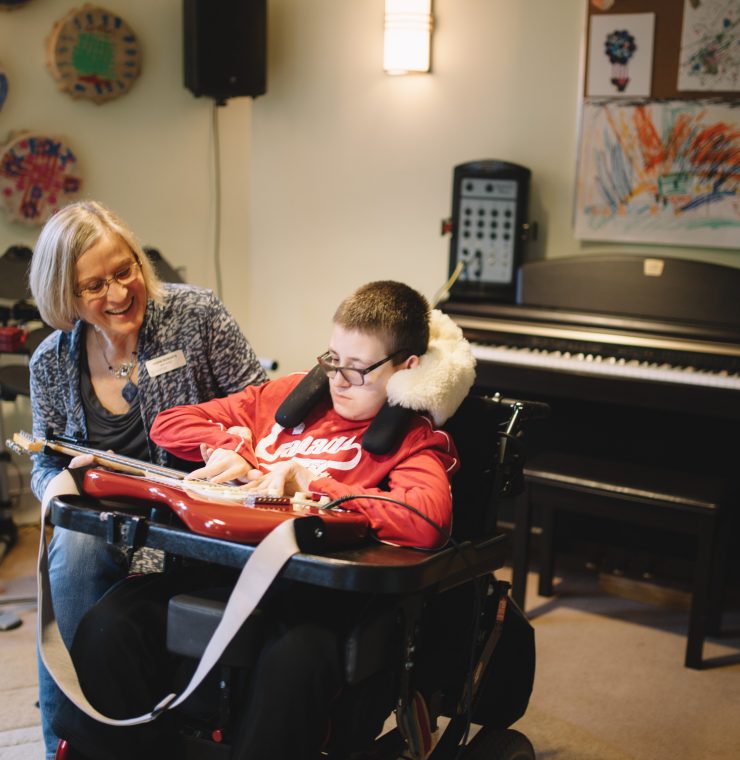 Music therapy and its role in pediatric palliative care
March is Music Therapy Awareness Month, and at Canuck Place, our clinical team uses music therapy in our interdisciplinary program. We also welcomed a new music therapist to the Canuck Place team, Michaela Wallis!
How is music therapy used in hospice care?
Music therapy is effective for sharing emotions, offering comfort, connecting with others, managing distressing symptoms, and communicating without words. It's a form of self-expression that lets children on our program live life to the fullest.
What are the benefits of music therapy?
Normalization:

Learning music reinforces the focus that life goes on despite having a terminal illness or condition. When the children are with the music therapist, they experience themselves as musicians —not children with disabilities or life-threatening illnesses.

Grief and Loss:

The therapeutic use of music is integral to our counselling and bereavement services. Music can offer an unspoken avenue of connection and comfort during an unimaginably difficult time.

 

Enjoyment:

Music therapy provides young people with physical limitations the opportunity for pleasure and creativity. 

Pain and symptom management:

Music can be used as a distraction during uncomfortable medical procedures or for ongoing symptoms. 

Anxiety:

Music-assisted relaxation or vibroacoustic music therapy can be used to elicit relaxation responses and in teaching relaxation strategies. 
We spoke to Canuck Place music therapist, Michaela, about what it means to be a music therapist and how music contributes to the heart-centered care at Canuck Place.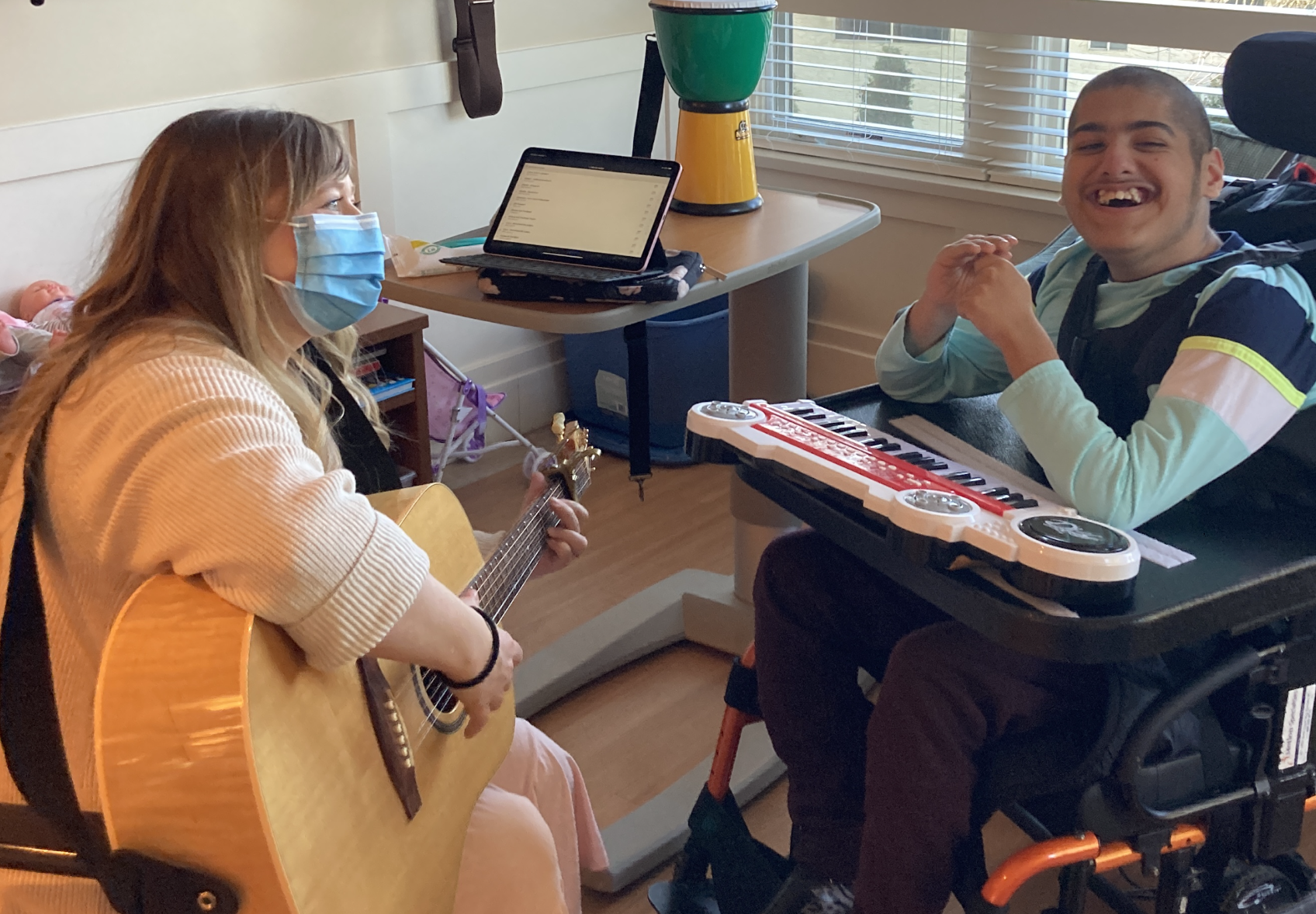 ---
What are Canuck Place's main goals in creating adaptive music therapy sessions for children?
Music is a universal way that all people can connect. Music therapy can meet each family exactly where they are at in their journey— providing family members with a place to express themselves and create lasting memories. 
For a child who is non-verbal, music provides a voice. As a music therapist, my goal is to give children and families a voice and a space for them to express their joy, grief, or whatever else they may be feeling. Making music accessible for all involves adapting a task to match each child's cognitive and physical abilities, as well as emotional well-being. Sometimes this requires some creativity with regard to adapting the musical instruments. 
My other main goal is to be in the moment with children and their families using music as the modality. If a child is in pain, music can be there to relax, soothe, calm, and regulate breathing. If a child is sad or angry, music can provide space to process and be a voice when it's hard to know what to say. If a family is here for respite, music can be a fun way to connect and create life-long memories. Music is universal, bridging ability and language barriers. 
Overall, my goal is to support children and their families through all the highs and lows that accompany the journey with a life-threatening illness.
Can you share a story where you had to adapt an instrument or musical exercise for a child at Canuck Place? Can you share more about how some of the adaptive equipment works?
In my time as a music therapist, I have had many opportunities to think outside of the box to make an instrument more accessible. I love using a piece of equipment called Eazy Holds. It is essentially a plastic strap that can wrap around a child's hand while attaching to something like a drum mallet. Eazy Holds allows children who have a difficult time gripping onto something to be able to hold a stick and make a sound on a drum, xylophone, or other types of instruments. 
I had the opportunity to work with a child who is non-verbal. Together, he and I created a way to communicate with his keyboard. I could ask a series of 'yes'/ 'no' questions, and if he wanted to answer "yes", he would simply play the keyboard. Through developing this musical communication, he and I were able to explore songwriting activities and provide him with a voice throughout his sessions.
Another thing I love to use in sessions is Garage Band on an iPad. This application allows children to record songs on an instrument of their choice at the touch of a screen. This has made playing the guitar accessible for someone who might be lacking the fine motor coordination to play a physical guitar. 
What is your process for selecting music, songs to play, or specific instruments for children and families to play during your sessions?
When I am meeting a child or family for the first time, I ask about any of their preferred music, activities, or interests. If a child is unable to verbally tell me, I often use hints of their age, background, and surroundings. Do they have any favorite stuffed animals or comfort items? Stickers on a walker or wheelchair? I will often try different genres of music or instruments and assess how the child feels about each. When a child is non-verbal, body language and facial expression play a huge part in the choice of music and instruments. What might be therapeutic one day, might too much on another day, so it is a continual cycle of assessment in each session.
How can siblings or other family members get involved in music therapy sessions?
 Siblings and family members are always welcome in sessions—together or separately. Recently, I wrote a song with a sibling, then the whole family helped create a music video and recording. I love having the whole family come out to have some fun creating music and memories. I also love to teach children and families skills they can draw on at home. This could be learning an instrument or helping them with being able to express themselves through songwriting or recording. 
It is truly rewarding to watch families utilize suggested tools and approaches to help cope with stress, express emotions, or simply create joyful memories with their loved ones.
What is your favorite part about Music Therapy and working with kids on program?
I feel so blessed to work as a music therapist. This job allows me to blend my passion for music with my love of working with people. As I come from a performance background, I have always really enjoyed improvisation. Working with children and their families lends well to drawing on my improvisational skills. On any given day, I'm able to create a session on the spot, tailored to what each child needs at that particular moment. If a child is having a tough day, perhaps the session will be more of a passive listening experience, where they can just relax and rest their bodies. If it's a good day, we can be more creative and active in our music-making experience. I love that each child and family is unique, which means each day and session is totally new and exciting.
---
 You can help families create lasting memories through the power of music by donating today. 
Thank You to Music Heals Charitable Foundation for the continued dedication to supporting our music therapy program!