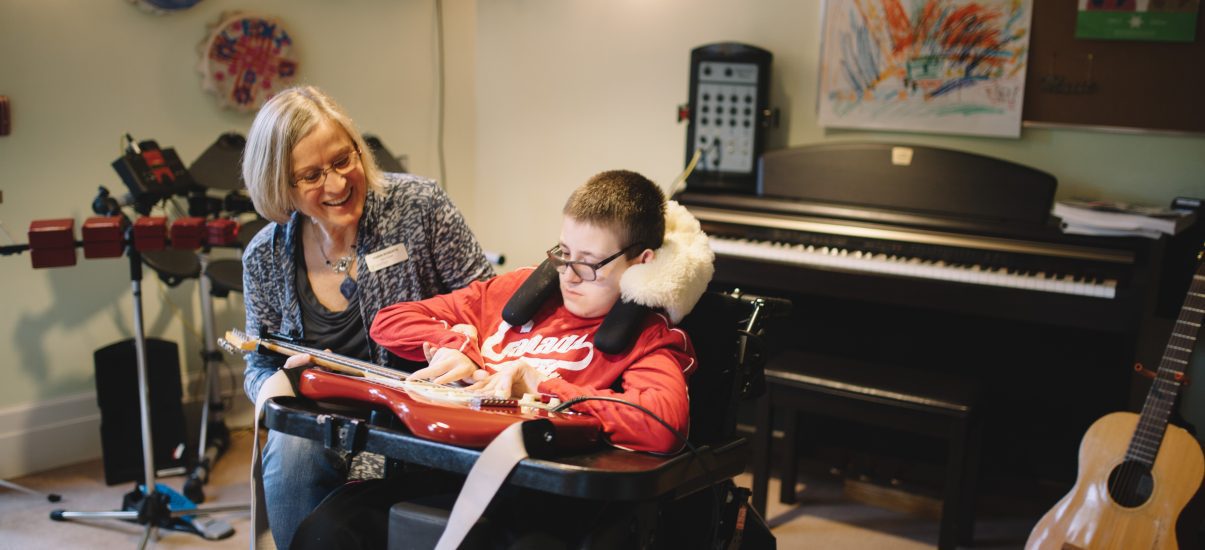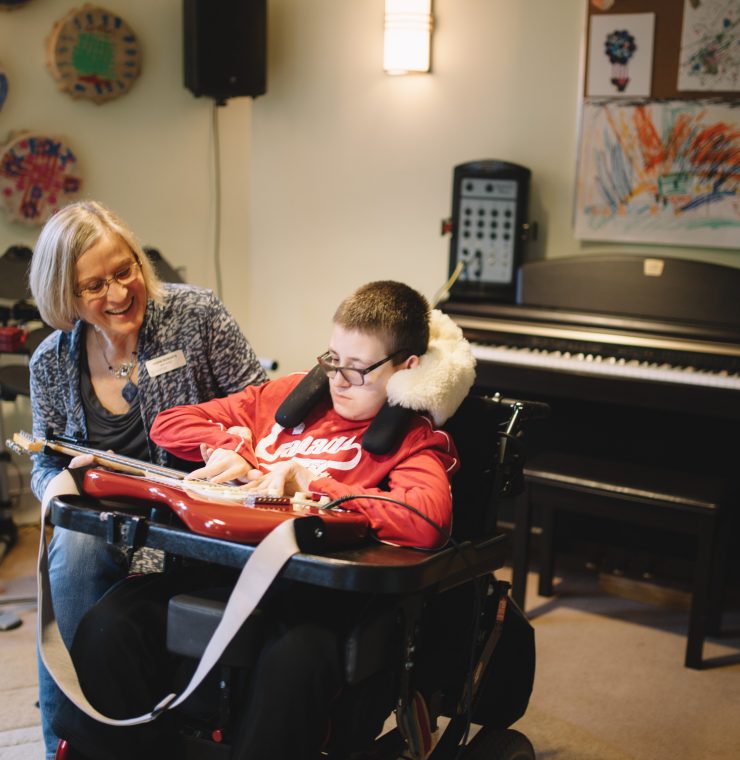 What is Music Therapy at Canuck Place?
March is Music Therapy Awareness Month, and at Canuck Place, we are honoured to have Music Therapist Karin Roberts as a part of our team.
Music therapy at Canuck Place serves many purposes: it helps children and teens with life-threatening illnesses express emotions, connect with others, communicate non-verbally and manage distressing symptoms. Not to mention, music therapy can help families create joyful memories together. 
In 2020/21, Canuck Place held 520 music therapy sessions in-hospice, in-home, and in-hospital. 
We sat down with Karin to dive deep into what music therapy is all about. Read more below!  
What is music therapy?
Music Therapy is the skillful use of music by an accredited music therapist to help a person or group of people attain therapeutic goals of care such as creative self-expression, emotional regulation, skill development, etc. A music therapist assesses the individual needs of their client or group, sets goals to meet those needs, and plans and implements musical interventions such as songwriting, vocal and instrumental improvisation, performing or listening to familiar and preferred songs to reach those goals.
How did you become a music therapist?
After graduating from secondary school, I studied music at UVIC for two years, then went on to get a degree in Psychology from SFU. My first real job was as a Child Life Specialist at BC Children's Hospital. I only discovered that I could make a career of my two passions — music and therapeutic interactions — after I left the BC Children's Hospital. I graduated with a Master's degree in Music Therapy 18 years ago and have never looked back. Music therapy is definitely my vocation!
Who or what influenced you to become a music therapist?
I was born into a musical family. My father loved to sing and taught us many songs he had learned in his youth. We sang together as a family, and that brought me great joy. As a middle school-aged child, I saw the movie The Sound of Music, wherein music was used as a medium to heal family and community relationships. That's when I first learned that music could be a therapeutic tool that benefits others.
Why did you want to work at Canuck Place?
I always felt a pull to work with children and youth, especially those with life-threatening conditions and illnesses. When I bring some joy or peace to a child's life, it fills me up. I also love my work with families, helping them make good memories and find healthy ways to cope with loss and grief after the death of their loved one.
Are there certain genres of music that are more effective than others?
In music therapy, the genre of music that is most therapeutically effective is the one that the patient prefers. In other words, no one particular genre is more effective than another. Working with children and youth, I am often surprised by their musical interests and preferences, including rock, pop, country, jazz, etc.
What does music therapy look like at Canuck Place?
At Canuck Place, I work with children and youth with life-threatning illnesses and conditions and their family members. I provide music therapy services in the music room, in a child's hospice room, and on rare occasions in the child's family home. I provide respite, symptom management, and end-of-life sessions for these children, making every effort to include family when possible. I also provide bereavement counselling to children using music therapy and therapeutic play techniques.
One of things I love about my work is that no two days are the same. I work with children of all ages and abilities. Many are non-verbal and use wheelchairs for mobility, and some are more mobile and verbal. Music is a leveler—every child, youth, and adult can be a musician, no matter the physical or cognitive challenges they face. At the end of life, a child can receive music therapy that creates a beautiful and peaceful ambience.
Memory-making is a vital part of the work I do. When families make music together, they are making good memories. I often video-record music therapy sessions and offer these videos to families after their beloved child has died.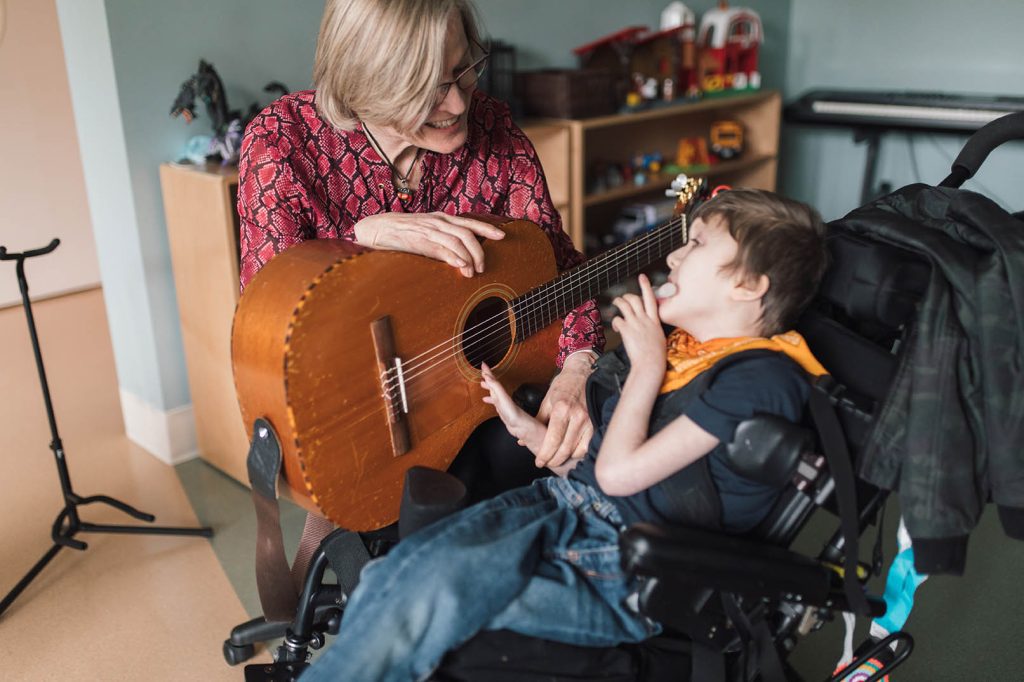 How has the music therapy service changed as a result of COVID restrictions?
As a result of the restrictions, I am providing virtual music therapy and bereavement sessions to bereaved children and youth and those on the Canuck Place program who are not able to come onsite. I also co-facilitate virtual bereavement support groups for siblings whose brother or sister has died within the past three years.
How does music therapy benefit the children and families at Canuck Place?
Children and families who receive music therapy treatment truly benefit from these interventions in that they have opportunities to express their challenging emotions such as sadness and anger. They also share their feelings of joy and sense of connection with their loved ones and caregivers. My role is to provide these children and families with a safe place to create, feel their feelings, grow and learn. My goal is always to reflect their expression so they feel seen and heard. 
How does music therapy support bereaved siblings and parents? 
Sometimes it's hard for children—and let's be honest—for adults to find the words to express the big feelings of loss and grief that our families feel after their child has died. I work with bereaved siblings and support them to use music therapeutically. For example, to forcefully play drums or dance wildly to release those feelings.  
What is one impactful moment you witnessed during a music therapy session that changed the way I think about music therapy? 
I always believed that music had the power to heal. It's another thing all together to witness that power in action. I worked with a child a day or two before he died. When I arrived he was lying down with his eyes closed. 
After a few minutes of music, he was sitting up, singing along, and requesting favorite songs. His family joined in, making some beautiful memories. I was so heartened to see him enjoying that kind of quality of life even on his last days. I left the room feeling full of gratitude for the gift of music.
---
Find more information about Canuck Place and the music therapy program on our website.  
Thank You to Music Heals Charitable Foundation for the continued dedication to supporting our music therapy program!