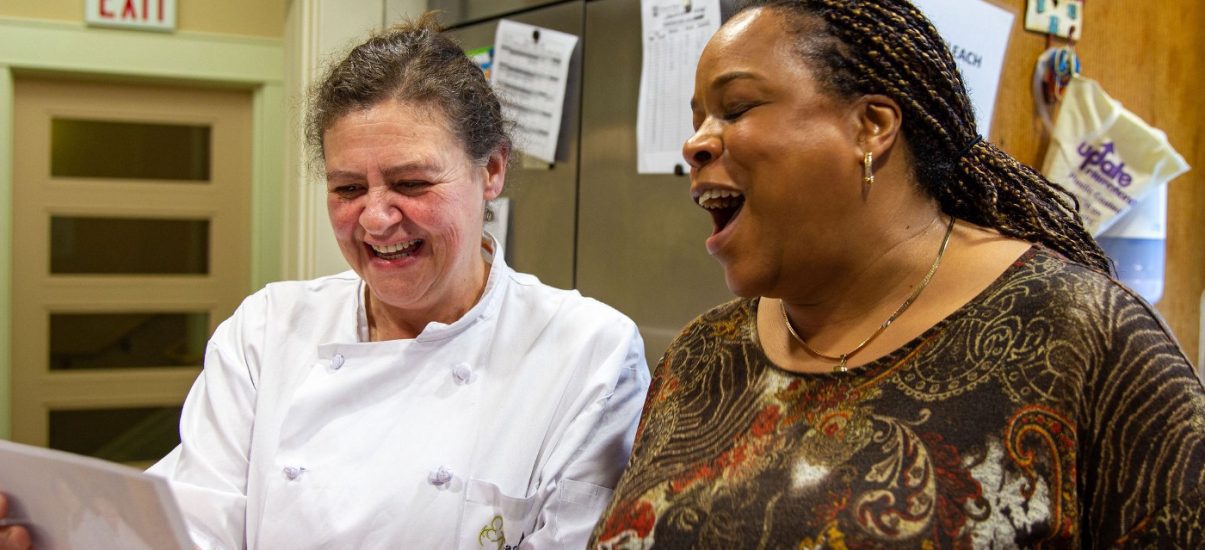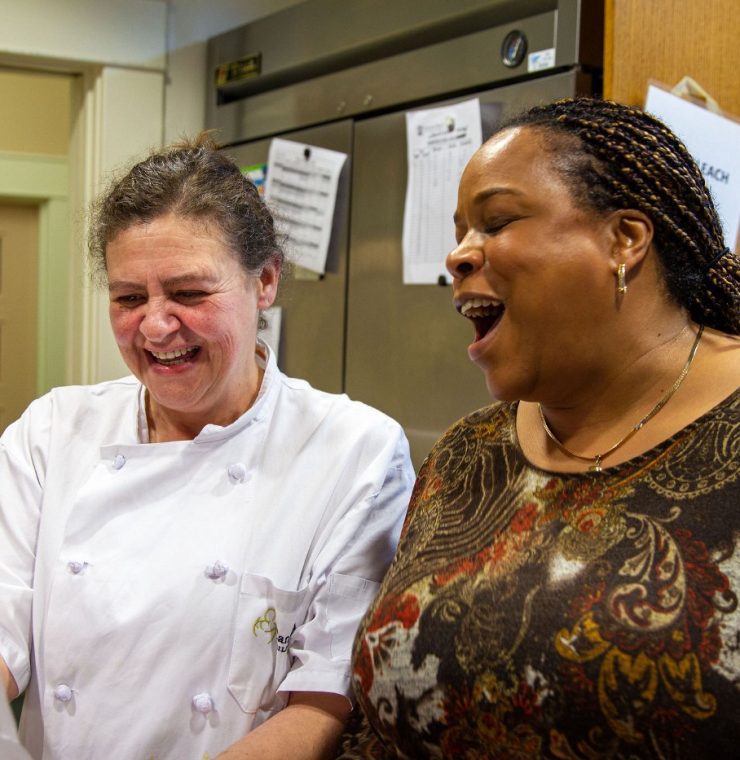 Canuck Place: Where the Cookie Jar Is Always Full
Eagranie Yuh
At Canuck Place Children's Hospice, the culinary team feeds the families of terminally ill children — in more ways than one.
North of King Edward Avenue in Vancouver's tony neighbourhood of Shaughnessy, Marguerite Street bends gently until it meets, then becomes, Matthews Avenue. There, behind the Scottish wrought-iron fence, hunches the historic Glen Brae mansion. Built in 1910 for lumber baron William Lamont Tait, it was meant to conjure up the Scottish castles of his homeland, complete with stained-glass windows and a third-floor ballroom. Since then, it has been home to the Ku Klux Klan, a kindergarten and a private hospital.
Today, Glen Brae operates as one of two children's hospices for Canuck Place. The ballroom has given way to top-floor school rooms wallpapered in paintings of rainbows; a main floor with library, kitchen and dining room; and a basement that's a maze of playrooms and offices.
As at home, the kitchen here is the warm, bright heart of the heritage house, producing food that somehow pulls together all the people — families, and all the staff, from housekeeping to medical personnel — who share meals in the dining room. Everything's made from scratch. Think kid-friendly comfort food: lots of soups, pastas, pizzas and simple roasts. And lots and lots of cookies.
"It's funny because everything can be going on here, lots of sick kids, but if there aren't cookies in the jar — oh, my, God," says Roxana "Roxy" Barbieri, her eyes wide with exaggerated drama.
In the Canuck Place library, Barbieri's tucked into a blue damask-print chair, her white chef's coat gathered around her. To her left, Dawn Clarke, manager of food services and housekeeping, perches in an identical chair, hands clasped in her lap.
"I used to work at a bank, which is ridiculous," Clarke says, who's been at Canuck Place for 20 years. The corners of her lips seem to extend into curlicues on her face like there's more smile than can be contained.
It was a sad circumstance that brought Barbieri to Canuck Place. She had a friend whose son died there — and one day the woman told her about a job opening at the hospice. That was 19 years ago, Barbieri notes. "And here we are."
At Canuck Place, food is the embodiment of the "comfort" part of comfort food. A tray of mac and cheese is actually Barbieri saying, "Hey, you're having a tough time. Let me take care of you." In accepting that meal, a Canuck Place parent is acknowledging that, yes, things are hard right now. And where the provision of care meets the vulnerability of acceptance, is our shared humanity.
"It's really that feeding-the-soul kind of thing," Clarke says, her alto voice filling the room. "Families come from the hospital and they're so happy to sit down and have a meal or a cup of tea in a comforting environment — have a conversation with somebody that's not a stranger."
From 2018 to 2019, Canuck Place served more than 765 children and families. Not all of its children live at Glen Brae mansion (or its other hospice, Dave Lede House in Abbotsford). Most receive in-home care and move to Canuck Place toward the end of a child's life, or when the parents need a respite from offering 24/7 care. Children receive top-flight care on the second-floor medical level, while parents and siblings live in one of the eight family suites on the top floor.
The average time from diagnosis to death is seven years. During that time, staff at Canuck Place take outsized measures to make memories to last a lifetime, whether it's big gestures like Christmas in November or a barbecue on the sprawling grounds with a sky full of bubbles, or quiet moments of pressing small hands into soft clay.
"A child can have an illness for years and not necessarily be dying right away. So you actually get to know the families," Clarke says. "We had this one little boy, he was three. He had a miniature apron and chef's hat. And he was the cookie maker, big time. His favourite was ginger snaps."
"Yeah," nods Barbieri.
"And he was very bossy."
"He was amazing. He used to sit at the table by the kitchen and say, 'Roxy! What are you making today? I want mac and cheese but remember, no pepper!'" Barbieri says, her laughter a flute playing descending eighths. "And I still make the mac 'n' cheese with no pepper."
The boy's mom volunteers in the kitchen, and Barbieri and Clarke swoon over the mango ice cream his grandmother brings to the annual Canuck Place summer barbecue.
"There have been many, many families that have come back and volunteered," Clarke says. "That's really — "
"That's amazing, right?" Barbieri says. "How good it was for them — "
" — their experience here — "
"Even if it was sad. Because with the boy's mom, every time she comes here, we always talk about her son. We laugh, we share a tear, but it's still good memories."
In other words, Canuck Place can be a place where families remember where their children lived, and Clarke and Barbieri hold the space to remember them. Many of their stories are happy, the two completing each other's sentences over laughter.
But of course, there is also sadness.
"Babies, I think they don't know what's going on, but when we have teenagers, children that are old enough to understand what's going on, that's very, very hard," Barbieri says.
"As a parent myself, when someone loses a child, that's the worst feeling in the world. There's no comforting that," says Clarke. "Sometimes parents will come down [to the dining room] after their child has passed and just sit there and sob with you. It's very difficult. But as difficult as it is to witness someone's pain, I think sometimes you're meant to be there." She takes a deep breath. "It's… it's hard to explain."
Sometimes words aren't enough. Some problems can't be solved. And that's when the simple things — a cookie, a hug, a familiar face — can make those moments bearable.
"You have to feel honoured that someone would want you involved with the most precious part of their life," Clarke says.
To wit, Barbieri talks about one boy who couldn't eat or talk, but who loved the smell of ginger snaps. "I used to make them for him, very small ones. And I got a little cookie jar so he could have his own." The small gesture had an outsized impact on his mom, because when the boy died, she asked Barbieri to come hold him.
"I'd never met the extended family before, but it meant a lot for them that I was there, holding him after he died," Barbieri says. "And his mom told me that they buried the little boy with the cookie jar and the little cookies."
"Wow," Clarke says.
It takes a special kind of person to work at Canuck Place. You can imagine the job posting: make three meals from scratch, bake hundreds of cookies per day — and care for parents with terminally ill children. Paradoxically, what would scare off the majority of applicants seems to be what brings Barbieri and Clarke the most reward. They are cooks by occupation; companions and witnesses to grief by vocation.
Some of us spend a lifetime searching for a way to express our unique talents in this world. It seems like Barbieri and Clarke have found theirs.
"You can't not be changed working here," Clarke says. "It makes you appreciate your own family, your own kids and life in general. It reminds you to be present."
Clarke tips her head. "People ask me, 'How do you work there, with such pain?' And it's like, I'm giving back something that only certain people can give." She pauses. "It's not like I don't have a choice to be a cook somewhere else. I'm where I'm supposed to be."
Barbieri's encountered the same question, and even her own children don't understand why she works at Canuck Place. "I know it's not for everyone. But I'm very grateful with my life. I don't have everything that I want, but when you come here, it's just different, the way you see everything."
On our way out of the library, Clarke points to the fireplace mantle. On one end is a candle in a hurricane lamp; on the other, a porcelain angel. When someone dies, staff put the child's name on the mantle and light the candle. There's no name and no flame up there now, but I can hear the murmur around me: soon, very soon, there will be.
Out of the corner of my eye, I see a streak of white. It's Barbieri with a small white box and the kind of hug you'd expect from an old friend. I open the box. Oatmeal-Skor cookies and good old chocolate chip.
The English language has so many ways to skirt the truth. We talk of passing away, of hospices and palliative care. We have myriad ways to avoid talking about the unavoidable: We are all dying. But equally, we are all living. Maybe the grace lies in holding space for both ideas at the same time — a necessity and consolation at Canuck Place, where every day can have its miracles, and every cookie jar its cookies.