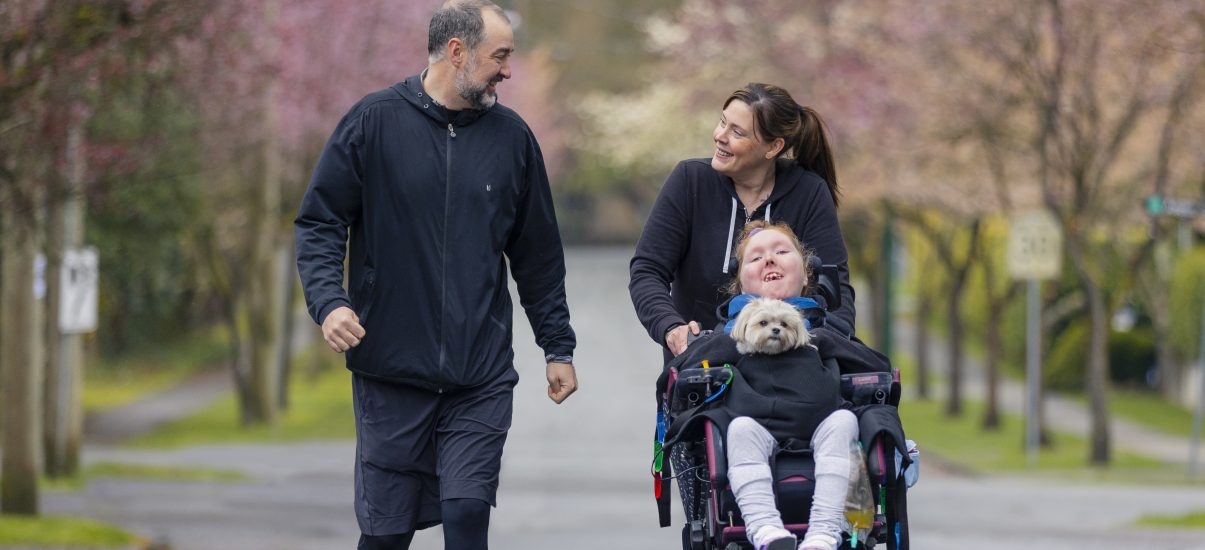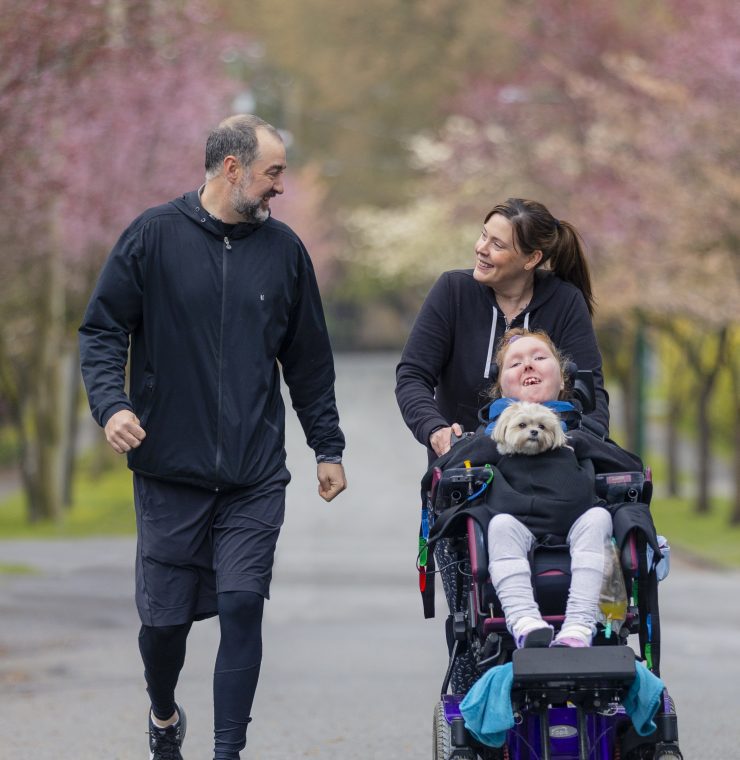 Canuck Place Is…Here for the BMO Vancouver Marathon Journey
Charlie-Anne is participating in the BMO Vancouver Marathon!
Charlie-Anne has a neuromuscular illness Spinal Muscular Atrophy (SMA) type 1. While SMA may prevent Charlie-Anne from walking, jumping on a trampoline, eating, and breathing independently, it has no chance with her humour and incredible spirit!
Charlie-Anne has been on the Canuck Place program for 12 years, where she and her family  have received respite, counselling, recreation therapy experiences, and more.
Charlie-Anne, alongside her mom Cherie and stepdad Drew, are running and rolling 21km in the 50th BMO Vancouver Marathon, raising funds for Canuck Place.
Fundraising for Canuck Place is important to us because we feel good giving back to an organization that has given so much to us and to others
Cherie and Drew have been running the Vancouver seawall in preparation for the race on May 1, taking Charlie for runs to measure the speed of her chair. They even put in a new battery so they can run the full 21km without any issues!
If you're interested in helping Charlie-Anne, Cherie, and Drew raise funds for Canuck Place, join team Charlie's Angels! They have raised $20,000 so far with no plans on slowing down.
"Giving back to your local community feels AMAZING. Whether you're directly affected or not. You're supporting families in the hardest days of their lives. We were told Charlie had three months to live when she was six months old. We were broken and completely overwhelmed. Canuck Place wrapped their arms around us and helped us navigate our way through the unimaginable. They still do. Canuck Place is a priceless resource that deserves all the funding and community support they can get."