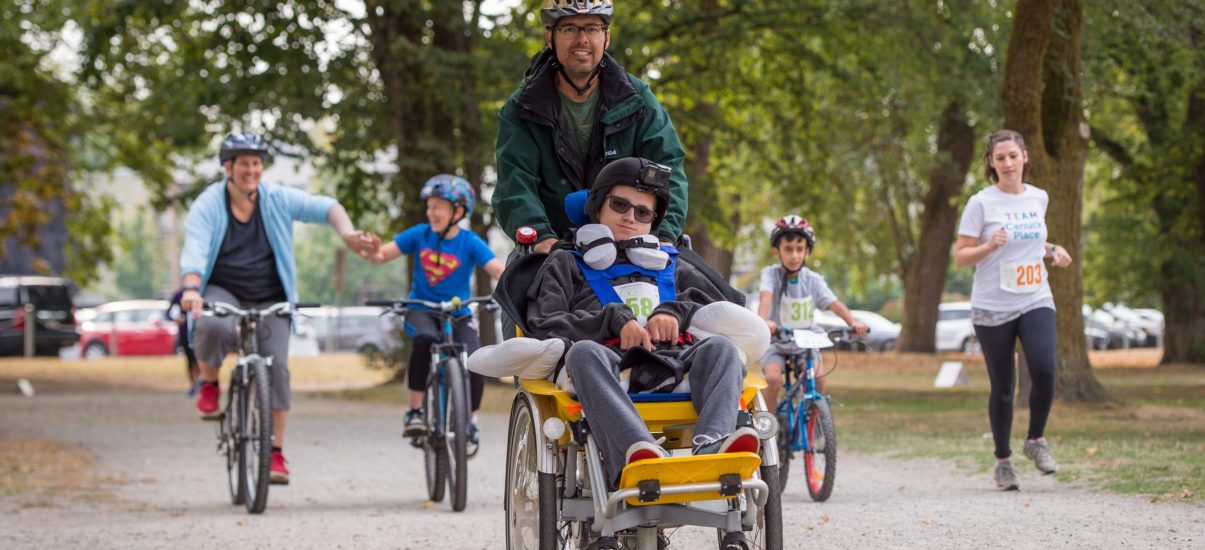 Father & Son: Making Memories at Canuck Place
Warren Martel's 16-year-old son Griffin came to Canuck Place when he was just 18-months-old. At that time, Griffin's future was rapidly declining and there was little hope for a cure of  his complex condition and seizure disorder. 
With the support of physicians and the expert pediatric palliative care team, Griffin stabilized. Canuck Place provides life-changing care to vulnerably ill children like Griffin and families like the Martel's.
"I don't know if I can even convey to you how far he has come," says Warren. "If you could have seen Griffin growing up, you would be amazed, because there was a time when we didn't know if we could even hope for a future."
 Canuck Place is BC and Yukon's pediatric palliative care provider with 13 patient beds and eight family suites between two locations.  Griffin and his family receive medical respite at Dave Lede House Abbotsford. The Martel's and other families receive care in the 24/7 inpatient beds and family suites.
"We're so grateful he receives medical respite care from Canuck Place," says Warren. "It gives our family a chance to be with him, to focus on each other and Griffin, rather than his complex medical needs. Canuck Place ensures that we have expert medical care we need to thrive with a special needs child."
 Warren deeply loves his all three of his children. Adventure and growth are important for Griffin and his two siblings.
"Griffin has always been an easygoing and cheerful boy who loves being outdoors and engaging in activities at school. Our whole family enjoys being together. It's a challenge to keep up with his medical needs, but so rewarding to see how he has grown up with everything he has gone through," says Warren.
Through Canuck Place recreation therapy programs, Griffin and his family have created incredible memories together.
"We've been able to do special things as a family because they provide so many opportunities, like the chance to have adaptive adventures that families like ours might not otherwise get to experience with a child with a life-threatening illness," says Warren.  "Griffin loved getting the chance to go to Cultus Lake to play on the waterslides. Canuck Place made sure everything was taken care of, even connecting with local firefighters to carry him and other children who use power chairs up to the top of the slides." 
Through cherished memories, shared experiences and sacred moment, Canuck Place is able to empower children and families like the Martel's to build amazing memories together.
Written by Jaxson Creasey