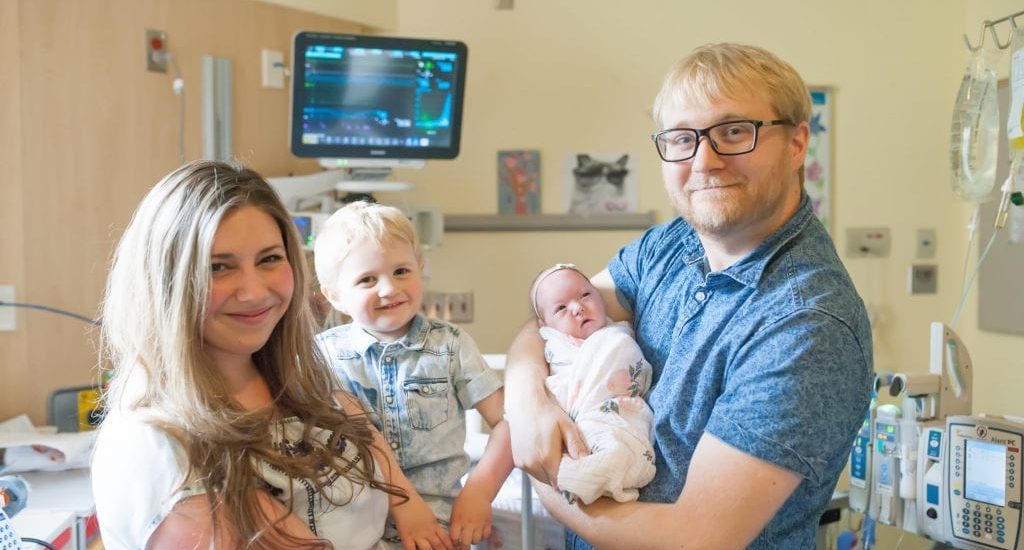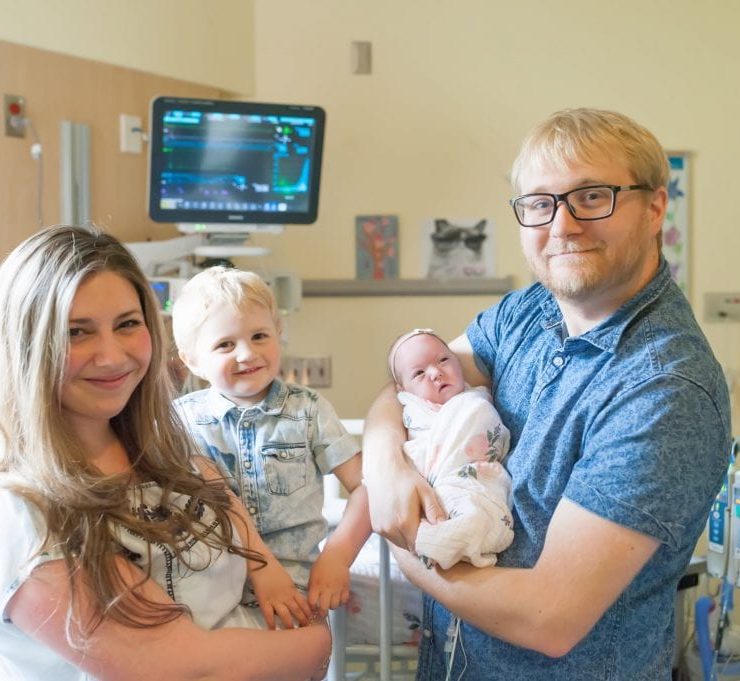 Light A Life: Meet the Harman's
Bronwyn Ariadne was born to parents Andrea and Jason on January 27th, 2017 at 28 weeks. She weighed a mere 1lb 6oz. Andrea's pregnancy was difficult and the couple was prepared for the likelihood their daughter would be born with a genetic abnormality.
The day their little girl was born was like any other monitoring session at the hospital. During a routine non-stress test, it was clear their daughter was struggling. Doctors performed an emergency cesarean section.
Baby Bronwyn was born into the NICU fighting for survival. Four months into her stay at the hospital, Bronwyn was diagnosed with MIRAGE syndrome. With less than 20 confirmed cases worldwide, doctors knew very little about her diagnosis. Despite the uncertain future that lay ahead for the Harman family, Bronwyn was joyful, happy child.
"She loved to smile and laugh at her dad. She loved to roll around on her play mat with her brother. She loved music. She was very quick to smile and she had a very special bond with many of the staff at BC Women's Hospital."
With a complicated and ever-changing condition, the fight for Bronwyn's health changed to a life-threatening diagnosis and the family was introduced to Canuck Place Children's Hospice. Nurses and doctors from Canuck Place supported in Bronwyn's pain management strategy and stepped in as a significant support network during a time of confusion.
"They were present at all our family council meetings with the hospital. They provided guidance and direction when our family had questions about the type of care Bronwyn was getting."
Bronwyn's comfort became the priority. Canuck Place worked with the family to ensure every day was focused on quality of life. Days became filled with family movie nights at her bedside, singing, reading books, and playing in her bouncy chair.
"We learned to live for those moments and in those moments."
Bronwyn spent her entire 6-months of life in the hospital. On August 7th, 2017, Bronwyn passed away peacefully surrounded by love.
"When you lose a child, you feel like you're living every parent's worst nightmare. A lot of people think that it's safer to stay away from talking about that child. But for me, what they don't realize is that talking about Bronwyn and talking about her memories was the only thing I had left. I feel like Canuck Place always helped with that space to be able to talk about Bronwyn, celebrate her life and keep her memory going."
Exactly one year to the day Bronwyn left the Harmen's, their third child arrived, a son. As the holidays approach, Andrea is excited to celebrate with all of her children.
"The grief of losing a child can rob families of this type of happiness or you can easily feel guilty for feeling happy. For us, we have reached a point in our grief journey where we can share and talk about Bronwyn and celebrate her along with our two boys."
This holiday season, Light a Life for Canuck Place. Donate now.