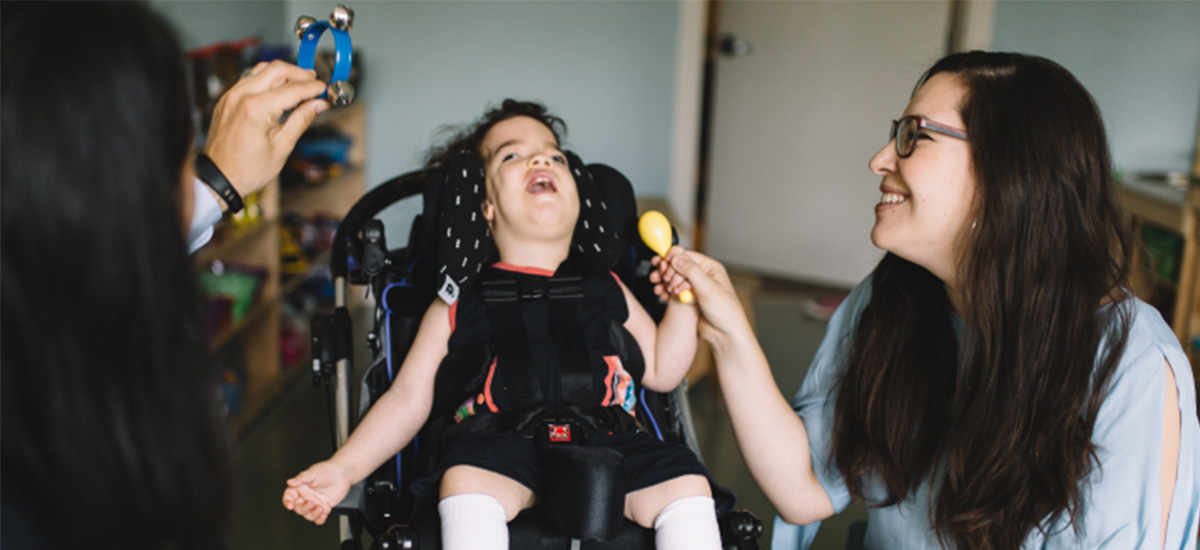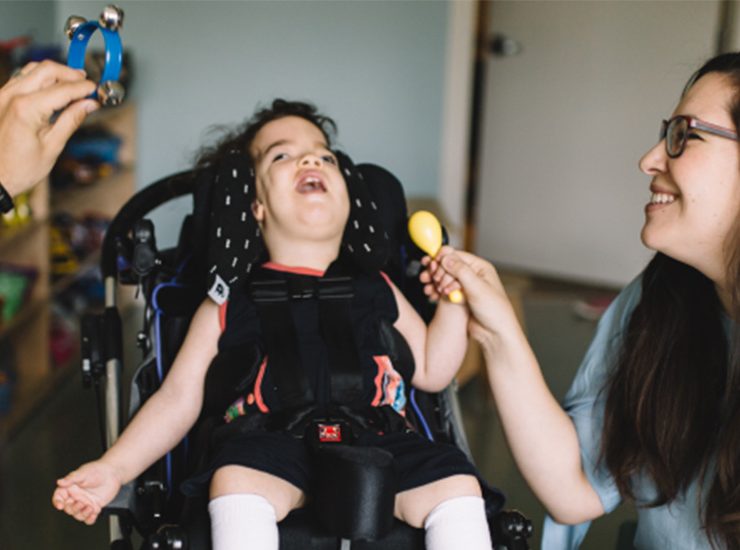 Expressing Joy with Music Therapy: A Best Day Ever
Music therapy at Canuck Place Children's Hospice serves many purposes, from memory making, to expressive therapy, to an accessible way to have fun and connect.
When the Cunningham family arrived for respite care on the first weekend of medical beds opening at Canuck Place – Dave Lede House, Abbotsford, they were already familiar with much of the house, from the hours spent in music therapy sessions.
Youngest daughter, Lumina, has a diagnosis of Walker-Warburg Syndrome, a genetic disorder that affects the development of muscles, brain, and eyes, and has been on the Canuck Place program since shortly after her birth.
The family attends music therapy sessions regularly, including eldest daughter, Hazel. It provides an opportunity to connect as a family and for Lumina, who is non-verbal, to express herself.
Canuck Place Music Therapist, Karin Roberts works to make music accessible to children of all abilities, whether that means using adaptive tools that allow children to make music by running their hands through lasers, or attaching bells to sleeves.
Music therapy at Canuck Place has helped the Cunninghams discover just how much Lumina is capable of. Together with Karin, they work on making music, and singing. It's opened up a level of communication that wasn't there before.
Father, Dwayne believes that music has a way of speaking to us deep inside, and he's grateful to see his daughter be able to connect with that.
Both parents can see the joy Lumina gets from experiencing music, and it helps the family connect as they sing songs together.
This time of joy, connection, and hope provide Best Days Ever at Canuck Place for the whole family.
"Music provides a non-verbal way of expressing yourself," explains Karin. "Sometimes it's hard to find the words to express how you feel, and sometimes through music you can express your anger, sadness, or the joy of living."
You can support music therapy and other services at Canuck Place by making a donation today.