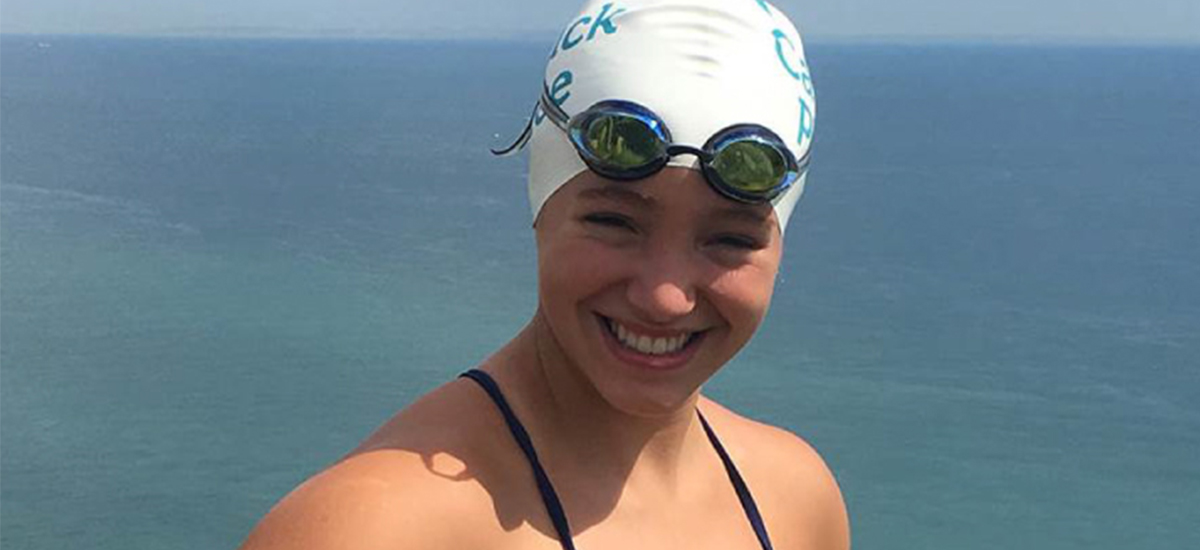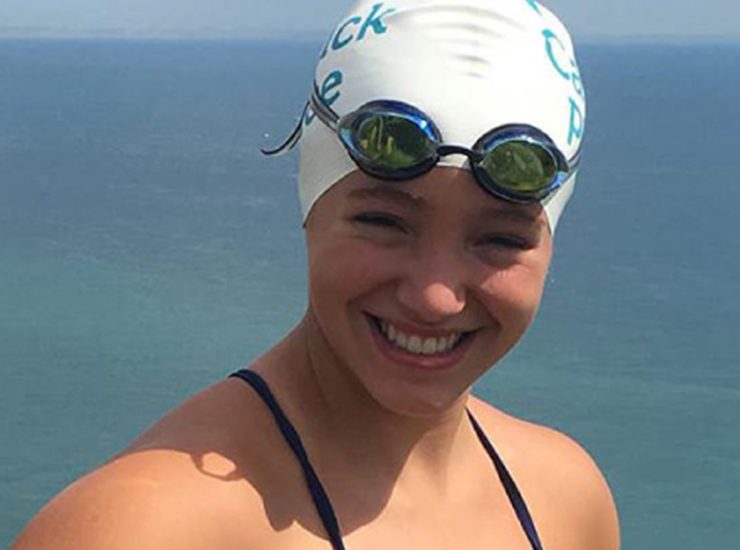 Sisterhood: Emily's Best Day Ever
Canuck Place sibling from Kelowna, BC, Emily Epp, had a truly "Eppic" Best Day Ever last summer when she successfully swam 48km across the English Channel while raising over $120,000 for Canuck Place Children's Hospice.
Emily has been involved with Canuck Place since they began caring for her sister Elan in 2012.
Elan has experienced a number of health challenges since she was 18 months old, including diminished motor control and severe scoliosis.When the family was first introduced to Canuck Place Elan was in near constant pain, unable to sleep, and would cry for hours. Under the guidance of Dr. Hal Siden and the Canuck Place medical team, new treatments eased Elan's symptoms.
"Being able to see her smile, laugh, play with her sisters, and sleep after years of suffering is something I don't know how to describe with words," says mom, Cheryl.
Since then, the entire family has been coming to Canuck Place where they've made many memories together.
Emily and her other sister, Erin, spent many childhood days playing with volunteers and even going to Cultus Lake Waterpark.
At home it's not always possible to visit friends' houses with Elan if they aren't wheelchair accessible, but at Canuck Place, accessibility is always a priority so everyone can get in on the fun.
For parents, Rob and Cheryl, their Best Day Ever at Canuck Place is any day where they can see how thoughtfully the clinical staff and volunteers care for Elan.
"To have other people make her laugh, and seeing them figure out the things she likes to do, means a lot to us," says Cheryl. "Because it shows they care enough to get to know her and be a part of her life."
Elan even stayed at Canuck Place while Cheryl flew to England to be with Emily for her big swim, where the whole Canuck Place team eagerly followed along with Emily's progress on a GPS tracker. The waves were large and Emily persevered through sea sickness, stinging jellyfish, and strong currents taking her off course.
Last Spring, Emily was in full training and planning mode for her big July crossing of the English Channel.
"This past year we've had a lot of time to talk about all of the things that could have happened, and we are very thankful that I was able to push through the unexpected challenges," says Emily. "I know that the money I raised will be used to make other childrens' lives better and that makes me really happy!"
This Spring, Emily graduated high school and will be attending Okanagan College in the Fall.
Emily went on an epic adventure and across the world for a Best Day Ever, but in the end, it all came back to raising funds for a home away from home that provided so many other Best Days Ever for her sister and entire family.
You don't have to swim for 11 hours to support Canuck Place! You can help by making a donation today.